Experiments
This page is dedicated to the experiments we do to test some of our technical ideas before using them on the waves of Isfjord. It mainly concerns with the sails and rigging.
I will not go into detail in the english part, only some photos to illustrate the experiments.
---
---
Katamaran
All team; 3rd May 2008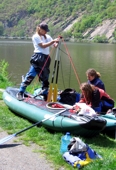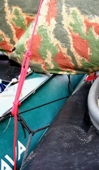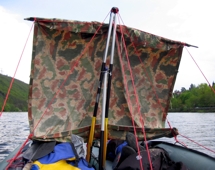 Building the katamaran from two boats and putting up the sail. The middle picture above shows the detail of rigging and the connection of hulls. On the last picture the sail can be seen in action including the third paddle stuck between the hulls as a fin.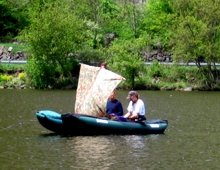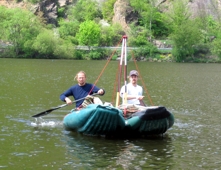 The design was reasonably easy to control with sails as well as with paddles.
---
This is also possible
Mira; 27th April 2008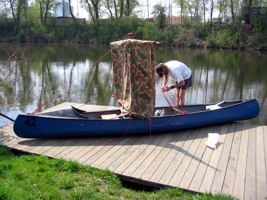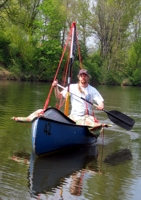 I improvised the rigging on the canoe.
---
Sailing on the rubber boat
Mira; 19th April 2008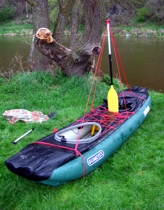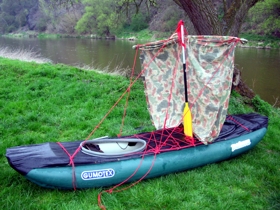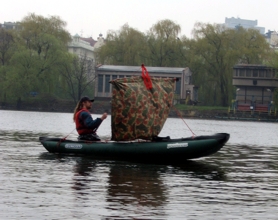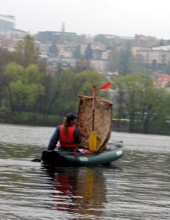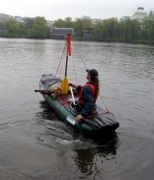 The first experiment with rigging the rubber canoe. I put up the mast made of a spare paddle stabilized by 4 ropes. The sail was simple square.
It was surprising how well such a boat steers. Also the ropes do not get in a way when using the paddle.