Previous visits
The author of this web has been on Svalbard three times in years:
---
August 2000
Mira & Pavel Rybnicek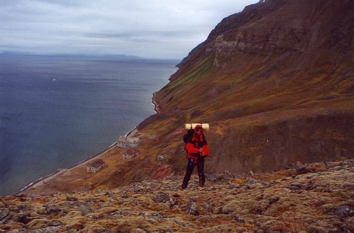 From 17th to 28th August 2000 me and my old high-school friend Pavel Rybnicek came to Svalbard for the first time. We made several short trips in the vicinity of Longyearbyen plus a four days hike to Barentsburg.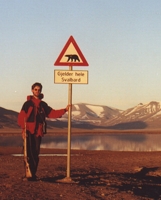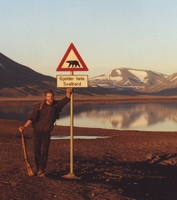 ---
August 2002
Mira & Ondra Konvalina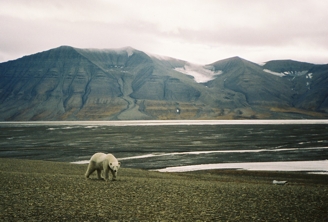 Two years after there was another visit, between 3rd and 24th August 2002. This time we went farthet in the tundra.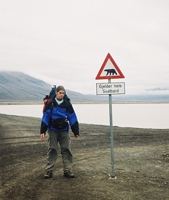 We started with three days "warm-up hike" in pretty sharp pace, when we made it to Kapp Laila cabin on the far side of Colesbukta bay and returned to LYB.
The main trip was 12 days long and we came as far as the mining settlement of Sveagruva. In many aspects we were baptized by the Arctics.
We could enjoy the typical quick changes of arctic weather from comfortable sunshine to slashing wind and rain (that it is also possible the other way around had been hidden from us in that time). We also enjoyed fording the big rivers (Reindalselva), which severely influenced the following expeditions. We even got a taste of fording in quite miserable weather. we crossed the glacier and its morraines, which will not be appreciated enough by those who have not tried that. We met our first polar bear...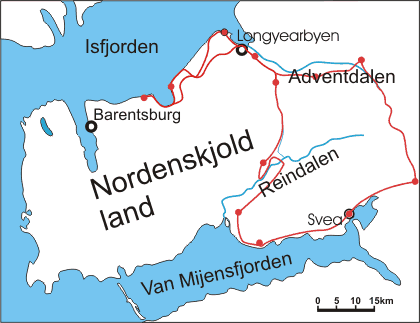 ---
August 2004
Mira & Katka Kodickova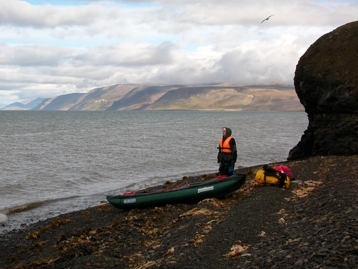 In summer 2004, from 30thJuly to 22nd August, there was the third expedition, this time a waterborne one.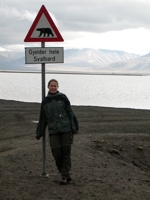 The main goal of this expedition was to go down the river Reindalselva. The origin of this idea goes back two years to our attempts to ford this river. Amount of its water and the beauty of entirely natural environment was very inspiring. The idea seemed unreal in that time though
The idea to use the rubber canoe Palava came in the fall 2002. I bought my own Palava the next spring and I spentmost of the time to the expedition gathering experience and solving various technical details of equipment. Arctic sea is really a respectable power.
To reach Reindalselva from Longyearbyen it was necessary to cross the mountain range. Its mouth is in Van Mijens fjord, south from Isfjord where we had to return to. These facts determined three stages of the expedition - marching across the mountain, going down the river and paddling on the sea around the peninsula back to LYB. This plan was changed a little by the circumstances but basically it remained.
we had lots of experiences, not all were beautiful, not all were painful, but they were all strong. We even met the bear again.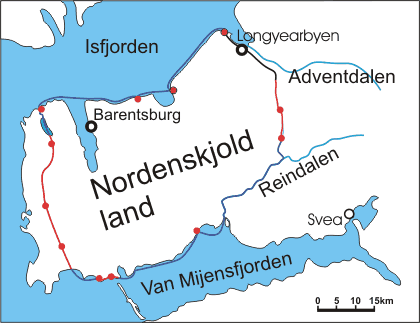 There has been a website of the Svalbard 2004 expedition in Czech. Among other there is the diary and a lot of photos. Moreover there was an article on this expedition in the second issue of Czech Hydromagazin.